Tampa Ranks 4th for Covid Transplants


Above-average unemployment rates are driving people from expensive states like New York and California to relocate to states with a lower cost of living. People are looking for a better quality of life, including lower costs and larger living spaces.
Two Florida cities rank among the top 5 most moved to cities in the US:
1. Austin, TX 2. Phoenix, AZ 3. Nashville, TN 4. Tampa, FL 5. Jacksonville, FL
Why Florida? The coronavirus pandemic is likely to blame, many people are suddenly working remotely, and their normal city activities and way of life are significantly limited. When the pandemic hit, people realized they could have a better quality of life without the high expenses, cramped apartments, and the city's hustle and bustle. So, when many companies allowed employees to work remotely from anywhere and folks also learned that Florida and Texas are two states with no income tax, suddenly a new way of life was a real near-term possibility.
The onset of the pandemic forced people to slow down, with many people re-evaluating their quality of life. A New York City family living in a 700-squarefoot one-bedroom apartment now has the opportunity to purchase a 3,000 + sq ft, new construction home in Tampa, Florida, more than triple the size of their NYC apartment for around the same cost. It's a no brainer that these types of families would want, triple the size of their NYC apartment with better weather, as well as the reduced restrictions on their quality of life.
The influx of people to Tampa is also reflected by U-Haul's findings of migration trends in 2020 from more than two-million one-way transactions and is reflected in its rental pricing (uhaul.com). A U-Haul rental from Philadelphia to Tampa costs around $3965 for a 20-foot truck, but the same sized truck from Tampa to Philadelphia only costs $758. Florida ranked third, following Tennessee and Texas, as one of the highest-ranked states for migration growth in 2020.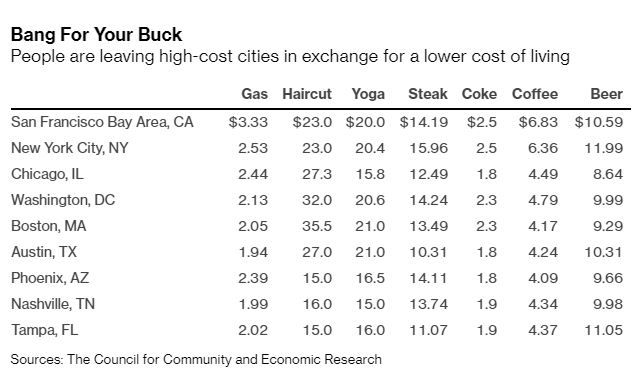 According to NYC's FlatRate Moving company, people are definitely moving out of the city
According to NYC's FlatRate Moving company, people are definitely moving out of the city. They told The New York Times, "... the number of moves it conducted between March and August for people moving out of the city entirely was up 50% year over year." However, there is no definitive data to show these moves are permanent. In fact, studies suggested people who relocated at the onset of the pandemic fled to destination cities such as Scottsdale, Arizona.
Some people left for their vacation homes, some moved in with their families in the suburbs, and others left to decrease their risk of infection. The most recent Harris Poll indicates that 74% of city dwellers were unlikely to leave a city they love for suburban or rural destinations that lack the professional opportunities and cultural amenities they are accustomed to. This same sub group of people may consider small-to-medium cities that can offer the best of both worlds with a lower cost of living, more living space for less, as well as social and economic opportunities.
Prior to the pandemic we already had an estimated 150 people moving to the area per day! In the coming months it will be interesting to see how this additional influx of people to the Bay area effect the housing market. However, one thing is for sure, Tampa is already suffering from historically low inventory across the board, and more demand will continue to drive prices up in our community.